Hi Reader,
You're receiving this email because you signed up to my newsletter, in which I share my favorite ideas on how to live a healthier and happier lifestyle.
Thank you for being here. If you enjoy this newsletter, you can help out by forwarding it to a friend. If this email was forwarded to you, and you'd like to receive it regularly, you can sign up for it here.​
---
quick announcement!
I'm doing a workshop!
It's happening on August 10, Wednesday at 10pm (Philippine time)
The number one thing I hear from my clients is that they don't have enough time to exercise. I always talk about it, so I put together a workshop on how to move more without eating up your precious free time.
​
This week in building health
Why do I eat the food I eat?
You can't focus on your health without thinking about what you put into your body.
And you can go to the grocery store, scour the shelves, and pick out something that you want to eat.
But on a bigger scale, your diet choices have already been made for you by the food producers.
It's easier and efficient to grow one crop instead of a variety. So producers sacrifice diversity of food for efficiency.
It's so much work growing sesame, fruits, sweet potatoes, squash, tomatoes, eggplants, and rice.
Let's just choose one and focus on that.
There's enough food- but it's not the right kind
That reduces the variety of food available.
If you're trying to eat a well-rounded diet, your big chain grocery may not be able to get all nutrients you need.
To combat this, it's important to be aware of what you're eating and where it comes from. It's easier said than done, but the awareness is a good first step to take in building a healthier diet.
3 Principles I can practice today to improve my nutrition
I believe that the future is not about the number of calories you eat, but in the quality and diversity of your food.
My personal challenge: How can I get the right mix?
1. Make it colorful
A nutrition coach once told me, "You should eat the rainbow."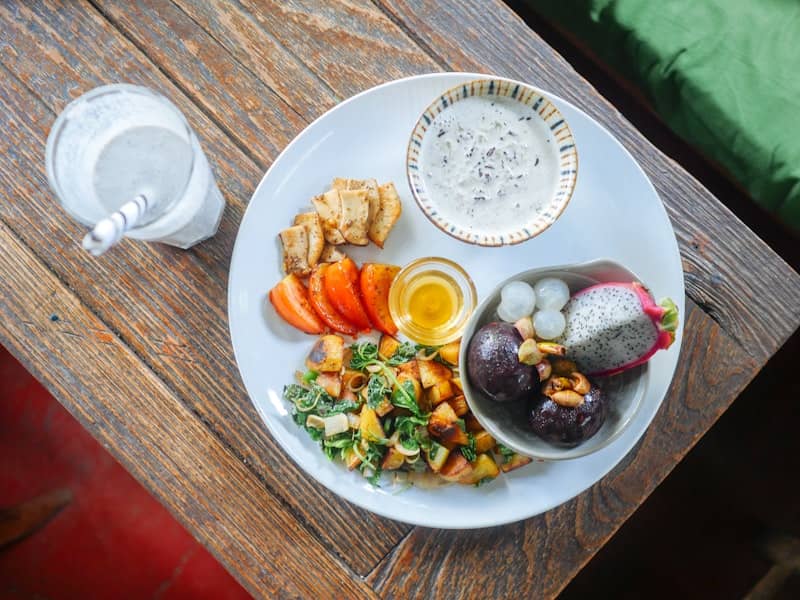 I love that phrase so much.
Whenever I have a meal, I try to make sure it has a little bit of everything. Green, purple, red, white, even orange, blue, or black sometimes!
​
​
2. Learn to use local, forgotten foods
This one I'm bad at, because I've gotten used to certain types of foods.
I want to rediscover local, often forgotten, grains and plants that are inexpensive and easily available.
These foods are often more nutritious than the mass-produced items that have come to dominate the grocery store.
3. Eat with others
Because of where I shop and my eating preferences, I end up eating the same things over and over again.
Meeting up with friends more meals gives me more variety in my diet.
Plus I get the boost of spending time with people I love
​
my favorite health things this week
A month ago, I took a break from city life and spent some time in the countryside during harvest season. I was amazed by the abundance of fruit and produce that was available to everyone.
You could just pick a mango off a tree and eat it.
This got me thinking about how things used to be in cities before. There used to be plots of land dedicated to growing local fruit. This may not have been the most profitable use of the land, but it was helpful in ways that went beyond money and rent.
We all need the benefits of green space, whether it's for spiritual refreshment or having food on the table.
Wouldn't it be wonderful if more people in cities experienced the pleasure of eating locally grown fresh fruit, knowing that they were investing in their community by doing so?
Everyone is always doing the same exercise movements. Things like squats, pushups, and sit-ups.
But we end up leaving out a lot of in between movements
What do I mean by that? Watch this video:
You can try it for yourself if you like
​(Go slow, and only do what you're comfortable with)
Movements like these (aka transitions) happen between bigger, more obvious moves.
And they're incredibly useful. Imagine for a moment, how can you get up off the ground without twisting or rotating?
This is often where people struggle the most, as they try to force their bodies to do something that they don't practice often.
This podcast talks about those overlooked movements and how you can practice it more.
How is sleeping possibly something hard to do?
Why can't I just close my eyes and fall asleep like everyone else?
Approximately 10 per cent of people meet criteria for chronic insomnia, making it one of the most prevalent medical conditions.
If you're one of those people who just can't seem to get a good night's sleep, you're not alone.
This article has some great insights into how you improve your sleep. Here are some that stood out to me:
Challenge unhelpful beliefs about sleep.

Try a 'brain dump' to alleviate racing thoughts

Reinforce the association between the bedroom and sleep
​
updates on my work
Apart from the workshop I'm doing, I'm also doing a lot of interviews this month.
Javier Luis Gomez 🚶‍♂️

@javiiegomez
August 3rd 2022
I recently read the book Deploy Empathy which is all about doing customer interviews. It inspired me to make interviews a part of my coaching process.
I'm still looking for a few people to do a Q&A with, so if you, or anyone you know is interested- just reply to this email.
Think of it as a free chance to talk to a coach about your health right now 😁
---
Thanks for reading.
Be well this weekend,
Javier